There are more than a few reasons that I was impressed by 21CCCS when I first came to know the school. I was excited to work in the charter school system,  to work with dedicated teachers, and know that the school serves a special population of students. But, what really struck me when I came to this school was the dedicated attention paid to prepare teachers to teach in an online environment. When I graduated from my own teacher certification program, it was the spring of 2012. It wasn't too long ago. When I think back to what sort of course requirements and instruction I had, it is baffling to consider that online instruction was not a requirement.
As a graduate student, I took coursework specific to delivering instruction in a traditional classroom. While there was often mention of including technology in our lessons, it was not mandatory that we fully explore just what technology can help to deliver. There was never one set course designed to explore online tools, social media, or other relevant resources that could help students learn with the use of technology. I didn't learn how to operate on a platform like Blackboard or Moodle from a teacher standpoint. I didn't know anything about coding, or php files, or html.
So, recently, I got a little curious. I started researching other colleges in our area to see if there are classes built into teacher-educator curricula. Since most teachers enter this profession from the undergraduate level, I searched college course catalogs and class requirements for El. Ed and Secondary Ed teachers. I wanted to find coursework that specifically targets an exploration of utilizing technology in the classroom. The courses offered in a given school's undergraduate teacher curriculum are listed below:
Pennsylvania State University:    
EDUC 462, Computers for Classroom Teachers
EDUC 463, The Internet and K-12 Education
EDUC 464, Technology and the Learning Process (Not required for teaching degree or certifications)
Villanova University:
COMM 3352, Media and Technology (Required for Teachers of Communications only)
University of Pennsylvania:         
No undergrad degree in education
St. Joseph's University:                 
No tech coursework identified
Drexel University:
EDUC 310, Computer Applications in Teaching
EDUC 325, Multimedia in Instructional Design
West Chester University:
EDU 350, Computer Applications in the Humanities (Required for Teachers of English)
Temple University:                        
GENED 08xx or 09xx, Science & Technology I
Albright College:                            
EDU 350, Instructional Technology
Eastern University:
EDU 231, Computers in the Classroom
Immaculata University:                
EDU 320, Science and Technology Methods
Arcadia University:  
EDU 266, Instructional and Assistive Technologies in Education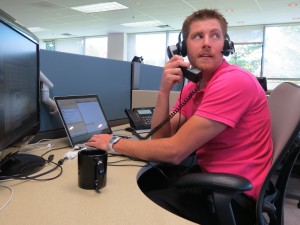 While some schools are offering technological instruction for their teachers-in-training, not all schools require these courses in order for students to graduate. The courses themselves seem basic in nature. And, offering just one class can only get a person so far. Further, I checked out PDE for a little more information. The Pennsylvania Department of Education does not require an educational technologies component in order to earn state certification. The state requires an individual to earn a bachelor's degree from an approved teacher certification program within a given university. The state publishes a list of "Approved Certification Programs" across the commonwealth.
With over 34,000 publicly educated students now choosing cyber school in the state of Pennsylvania, it seems shocking that a greater emphasis is not yet put on education technologies training for teachers-to-be. Much of the training that teachers receive occurs as it does in our school—after a teacher has been hired to work in a cyber environment.
So, what does training look like? It takes a lot more than simply learning how to work off of two or three monitors everyday! Newbie teachers become co-teachers to start, so that they may observe and model what another successful veteran teacher is doing. Teachers are paired by content area and learn to operate on two different learning platforms: one that stores content and information (Moodle), while another engages students to interact with teachers and classmates in a virtual space (Blackboard Collaborate).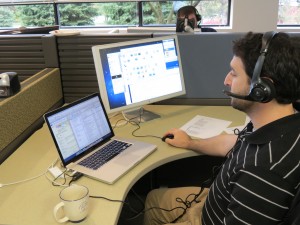 Our New Teacher Orientation and induction program guide the transition to teach in a cyber school by offering a systematic approach to a new way of teaching. Mostly, this means our teachers are learning how to deliver instruction virtually, and respond to learning needs appropriately. Communication skills are honed and developed, helping teachers to convey information through various means. Teachers also learn how to balance and manage multiple platforms throughout the day, catering to tutoring needs, emails, call-ins, a steady flow of grading, and providing feedback to students constantly.
Juggling so many things is no easy task. Our teachers are passionate, dedicated, and wizards at what they do. The transition period has its learning curve. But, it is important to note that our teachers have become great at instructional delivery because they've been around for a while (since 2001). While technologies learning is not yet at the foreground of teacher education training programs, our school has certainly risen to the occasion.
Learn more! Like us on Facebook, and follow us on Twitter for constant blog updates and information!