Enrollment
Begin your experience at 21CCCS with an open dialogue with our online school enrollment team. For those needing more information, we encourage you to connect with our enrollment team to understand how 21CCCS might best serve your individual needs. Your school year officially starts with orientation, where our staff will walk you through every area of your cyber charter school and new virtual classroom.
Online School Enrollment Process
Our team strives to make the online school enrollment at 21CCCS as easy as possible. We've streamlined our process to include two actionable phases for you, the prospective student or prospective parent, both of which reduce themselves to simply completing a few forms. For more information, visit our enrollment process page, or contact our enrollment team with any questions you may have.
Register Now
View the Enrollment Process
Orientation
Starting school in a new place can be an anxiety inducing experience. We understand! Aside from building a new routine and schedule, there is the matter of getting used to your computer and the programs required for your virtual learning plan.
Getting started at 21CCCS is not something any student is expected to do alone. We offer a comprehensive orientation for each incoming student before classes begin. The orientation teaches students to walk through different menu options to see, hear, and learn how each learning tool works. An introductory screen might look something like the picture below. Each orientation task is broken into simple parts, making it easy to track your learning.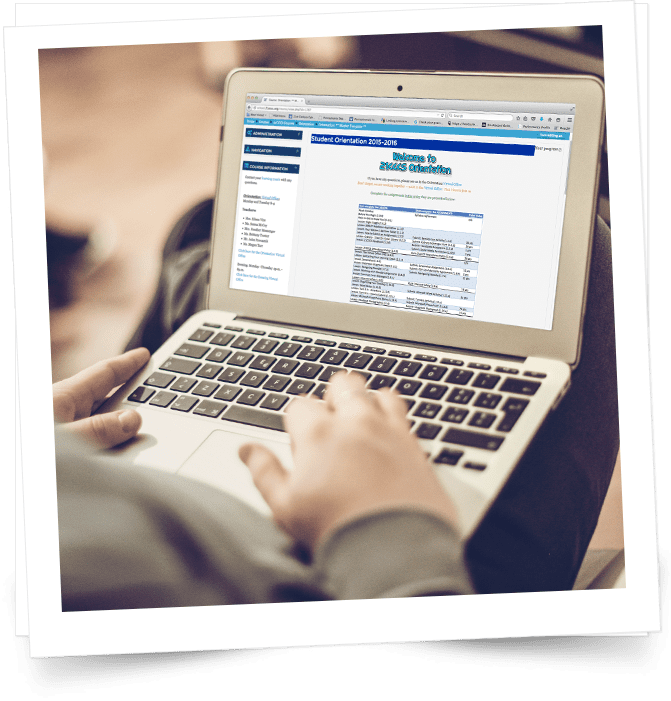 Every year that students return to 21CCCS, we provide a refresher orientation. This helps to remind students to utilize certain functions within our software, while building on more advanced skills and tools. Students receive answers to their questions in our live Virtual Offices, ensuring they are ready to tackle what's to come for the school year.
The software we use to communicate virtually with students is called Jigsaw; our software is incredibly interactive and user friendly, which students and parents find advantageous to the online-learning environment. The software enables teachers to communicate effectively and students to participate naturally in the class. Among other things, the program grants audio access (which is assigned by the teacher of the course), chatting privileges, writing permissions in the center of the screen, and more. Students are introduced to this software during orientation. Before long, they will know it very well.