A Unique Student Experience
Each 21st Century Cyber Charter student's experience is unique. The flexible, asynchronous environment we provide allows students to build an educational experience tailored to their specific needs. Students are able to structure their days around a school schedule that suits them. Each student is assigned an Academic Advisor. The Academic Advisor acts as a mentor, tracking academic performance and communicating regularly to ensure that the student receives guidance and instruction when needed. The relationship between the Academic Advisor and the student is very important and significantly impacts a student's success here at 21CCCS.
A Day in the Life
A 21CCCS school day is anything but typical as it caters to each student's unique needs. With that being said, it usually consists of 5-6 hours of schoolwork on average. This amount can vary depending on what the student has to get done for the day, and how quickly they progress through it. Students also spend their day communicating with teachers via phone, e-mail, and our virtual office.
Discover More
What's a day in the life of a 21CCCS Student look like? Find Out Now
Five Myths about 21cccs
We understand that you may be new to cyber charter schools. There's a lot of information out there, and several misconceptions as well. Wondering about something not listed? Contact our office or submit an inquiry and an enrollment specialist will be happy to answer any questions!
Myth #1: My child can be denied enrollment to your school. FALSE! We are a school of choice. You do not need permission from an outside source to attend. As long as your child qualifies to attend public school within your school district, he/she will qualify to attend here.
Read More Myths
Community Building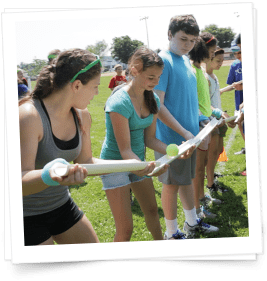 At 21CCCS we recognize that learning, growth and development go hand-in-hand with building community. 21CCCS staff and faculty members enjoy participating in several events throughout the school year, held in different areas across the commonwealth so as to reach our regionally diverse student population.
Students, friends, and family are all welcome to join our scheduled events, whether they are 'community outreach nights' or 'field trips.' Events are typically scheduled during the week and provide a wonderful opportunity for students to get to know their teachers and peers in person. Students and parents can learn of our scheduled events through email communications and regularly sent announcement fliers. We encourage students to get out and have fun. We love to see your smiling faces!
Graduation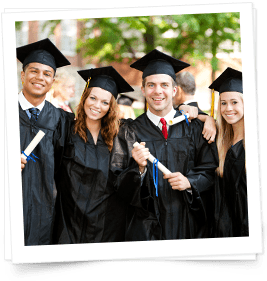 Once all graduation requirements have been met, students are eligible for graduation. We hold a formal ceremony for our graduates each year both in the East and the West of Pennsylvania. It is attended by friends, family, staff, faculty, and more.
Some of our students enter the workforce, while others continue their studies in a variety of higher education institutions. 21CCCS graduates have been accepted to many fine colleges, universities, and other schools.
View Colleges and Universities
Albright College
Allegheny College
Alvernia College
American University
Arcadia University
Arizona State University
The Art Institute
Baptist Bible College
Bard College
Belmont University
Berklee College of Music
Boston University
Brigham Young University
Bringham Young University - Idaho
Bucknell University
Bucks County Community College
Cairn University
Carlow University
Carnegie Mellon University
College for the Creative Studies
Columbia University
Cedar Crest College
City College of New York
Clarion University
Cleveland Institute of Music
Coastal Carolina University
The College at Brockport, State University of New York
Columbia College Chicago
Community College of Allegheny
County Community College of Philadelphia
Computer Learning Center
Cornell University
Curtis Institute of Music
Delaware County Community College
Delaware Valley College
DeSales University
Dickinson College
Drexel University
Eastern University
Eastman School of Music
East Stroudsburg University
Eckerd College
Edison State College
Elizabeth City State University
Elizabethtown College
Emerson College
Fashion Institute of Technology
Florida State University
Fordham University
Fresno State University
Geneva College
Georgetown University
Gettsyburg College
Goucher College
Grove City College
Gwynedd Mercy University
Hampshire College
Harcum College
Harrisburg Area Community College
Harrisburg University of Science & Technology
Hartford University
Houghton College
Hillsborough Community College
Hunter College
Hussain College of Art
Immaculata University
Indiana University of Pennsylvania
Ithaca College
James Madison University
Johns Hopkins University
Johnson & Wales University
The Julliard School
Juniata College
King's College
Kutztown University of Pennsylvania
Lackawanna College
Lancaster Bible College
La Salle University
Lebanon Valley College
Lehigh Carbon Community College
Lehigh University
Liberty University
Lock Haven University
Luzerne County Community College
Manor Junior College
Manhattan School of Music
Mansfield University
Marywood University
Massachusetts Institute of Technology
Messiah College
Middle Tennessee State University
Millersville University of Pennsylvania
Misericordia University
Montgomery County Community College
Moore College of Art & Design
Morgan State University
Mount Aloysius College
Mount Holyoke
Mount St. Mary's College
Muhlenberg College
New York Conservatory for Dramatic Arts
New York University
Northern Arizona University
Northampton Community College
Oberlin College
Ohio State University
Oregon State University
Parson School of Design
Pennsylvania College of Technology
Pennsylvania Highlands Community College
Pennsylvania Institute of Technology
Pennsylvania State University
Point Park University
Purdue University
Reading Area Community College
Regent University
Ringling College of Art & Design
Roanoke College
Robert Morris University
Rochester Institute of Technology
Rosemont College
Rutgers University
Sacred Heart University
Sarah Lawrence College
Savannah College of Art & Design
State University of New York, Purchase
Shadyside School of Nursing
Shenandoah University
Shippensburg University of Pennsylvania
Slippery Rock University of Pennsylvania
Smith College
Southern Virginia University
Stony Brook University
Susquehanna University
Sussex County Community College
Swarthmore College
Syracuse University
Temple University
Touro College
University of Arizona
University of the Arts
University of Cambridge
University of Mississippi
University of North Carolina School of the Arts
University of Oklahoma
University of Phoenix
University of Pittsburgh
University of the Sciences
University of Southern California
University of Utah
University of Wyoming
Ursinus College
Valley Forge Christian College
Virginia Commenwealth University
Virginia Intermont College
Walnut Hill College
Waynesburg University
West Chester University of Pennsylvania
Westminster College
Westmoreland County Community College
West Virginia University
Widener University
Wilkes University
Wilson College
Yale University
Yeshiva University
York College of Pennsylvania
Clubs
Online learning can still be social! 21CCCS offers several groups and clubs that a student can join to interact with students who share similar interests. These student-initiated clubs are all online, making them accessible for all of our students. The full list of clubs varies from year to year based on students' interests.
View our Clubs
Field Trips
Students are welcome to participate in field trips throughout the school year. They are attended by faculty, staff, and family, and offer a wonderful opportunity for socialization and learning. In the past we have traveled to:
The Monuments in Washington, D.C.
Ellis Island in New York, NY
North Park in Pittsburgh, PA
Adams Ricci State Park in Harrisburg, PA
Aquaculture Research and Education Center in Cheyney, PA
The Railroad Museum in Strasburg, PA
Pendle Hill Brinton House in Wallingford, PA
Hedgerow Theater in Media, PA
Carnegie Museum of Art and Natural History in Pittsburgh, PA
Michener Museum in Doylestown, PA
The Battlefields in Gettysburg, PA
The Rock and Roll Hall of Fame in Cleveland, OH
National Aquarium in Baltimore, MD
George Washington's Mount Vernon in Mount Vernon, VA
View Upcoming School Events
Events Calendar
Several times a month 21CCCS holds Community Outreach Events. These are typically held in the evening or during the weekend. We welcome faculty, staff, friends and family to get out and socialize. At these events we offer tutoring services, play games, challenge one another in sports matches, and HAVE FUN! In the past, Community Outreach Events have been held at:
21st Century Cyber Charter School Home Office in West Chester,PA and Murrysville, PA
Gap Community Center in Lancaster
East Shore Area Library in Harrisburg
Exeter Community Library in Exeter
Double Tree Hotel in Pittsburgh
Indian Valley Public Library in Telford
Norcom Community Center in Philadelphia
We are open to new ideas! Feel free to let us know if you have an idea for a new venue for our community outreach opportunities!
Teacher Life
Our instructional staff consists of full-time Pennsylvania certified teachers who work from our offices in West Chester, PA and Murrysville, PA. Our teachers are dedicated to their students and have helped them become successful with the curriculum based on Pennsylvania Core Standards. As evidence of our success, 21CCCS is the only statewide cyber charter school to achieve Adequate Yearly Progress (AYP) for seven out of eight years. The school also has one of the highest scores among all cyber charter schools in Pennsylvania on the School Performance Profile (SPP). In 2014, 2015, and 2016, 21CCCS had the highest SAT scores of any charter school in Pennsylvania with an average score in the top 5 percent of all Pennsylvania public schools. We have been in the top 10 percent on the College Ready Benchmark among Pennsylvania High Schools. 21CCCS has also been ranked one of the top-performing cyber charter schools throughout the Commonwealth of Pennsylvania for our SAT scores.
Each teacher works as an Academic Advisor while teaching his/her content areas. This grants them the opportunity to get to know students on a personal level. Teachers work to identify the learning strategies that will best serve the student and ensure success. Teacher schedules vary from day to day. They provide both synchronous and asynchronous instruction using our web-based learning software. They communicate with students by telephone, email, and exchanges within our virtual office.