The Curriculum
21CCCS teachers work collaboratively from our offices in West Chester, PA, and Murrysville, PA individualizing the curriculum to suit individual student learning styles and varying academic levels. Our teachers develop and update the curriculum based upon the Pennsylvania Core Standards and teach the core subject classes and most electives. All of our courses are designed to help prepare students for the next phase of their lives, whether that means continuing their education or joining the workforce. Our teachers, Academic Advisors, and school counseling department work together to ensure a student meets the necessary graduation requirements.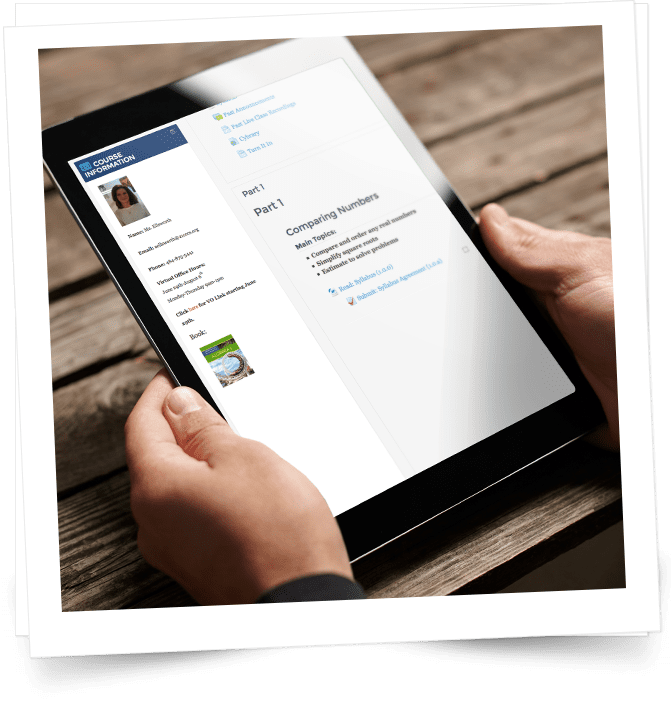 For each class, a syllabus is posted and students are guided in their progress through assignments. Course lessons and assignments are listed through links, to be clicked and viewed in a particular order. This list divides lessons into parts and sections, making workloads easy to follow and break down into more manageable pieces. Students can keep their workloads organized by noting which lessons they are working on each day. Below is an example of what a list of assignments for a math class might look like. Every item is separated with icons to show students if there is a document to read, an assignment to submit, or an activity to complete.
In general, work can be completed any time of day during the week. Students use the Internet to access their classes, complete assignments, or check in with their teachers for feedback. They can easily do this from any location with an Internet connection. Teachers are available in virtual offices from 7:30 a.m. to 7:30 p.m. for live support. Additionally, a live virtual class is held weekly for each course. Live classes are very popular with our students. In this real-time setting, our teachers can provide direct instruction, review instructional materials, and demonstrate how to solve problems. Students interact through a chat room or built-in microphone. They can ask and answer questions and participate in group discussions. The live classes are recorded, so students who cannot attend the live event can view it at their convenience.
Honors Pathway Honors level pathways are designed for students whose skills, past performance, and interests demonstrate that they can successfully complete increasingly challenging academic work. Honors work may include research and rigorous projects that require extensive reading requirements and analytical thinking. This level requires the student to be responsible, mature, and have strong study skills that enable the student to pursue independent learning. For high school students, upon the successful completion of an Honors Pathway, .25 quality points will be added to the GPA calculation for that course, provided that the student was enrolled in the honors pathway or a corresponding honors course at the student's previous school for at least half of the school year.
Supplies for classes are provided for our students. 21CCCS classes may use a traditional textbook, an online version of the text, or a combination of both. We also provide a calculator and graphic tablet for each student. Art and physical education kits, as well as other hardware, such as a digital camera, are provided when needed for a specific course. To help students stay focused, internet blocking and tracking software may be used to remove access to sites that could be distracting or inappropriate.
Often times, the largest challenge students face is that of time management in their new virtual learning environment. For this reason, support is available through the Academic Advisor. The Academic Advisor is also a teacher who has helped to construct and differentiate the curriculum. Their breadth of experience and knowledge will help your students to be successful with our curriculum.
Middle School Course Catalog (2022-2023 SY)                  Middle School Course Catalog (2023-2024 SY)
High School Course Catalog (2022-2023 SY)                      High School Course Catalog (2023-2024 SY)
Request more information
Pennsylvania Graduation Requirements-Act 158
For students graduating in 2023 and beyond, the following five options exist in order to meet the statewide graduation requirement: In accordance with Pennsylvania's Act 136 of 2020, beginning with the graduating class of 2023, students must meet statewide graduation requirements in one of five ways.
Pennsylvania Graduation Requirements-Act 158
Acceptable Use and Internet Safety Policy
The 21st Century Cyber Charter School provides cumputer network and technology resources to enhance educational opportunities for 21CCCS students, employees, and the 21CCCS community. Please see our Acceptable Use and Internet Safety Policy in the link below.
Acceptable Use and Internet Safety Policy & Attachments