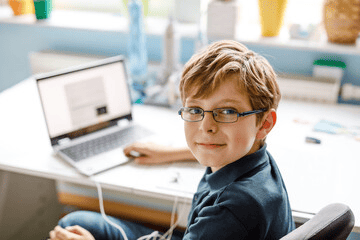 With Original Full Credit summer courses underway and registration for original credit courses worth 0.5 credits, Credit Recovery, and Course Recovery classes ongoing until June 7th at 21CCCS, it is safe to say that cyber school students across Pennsylvania are preparing for a successful summer school cycle.

21CCCS recognizes that students and their guardians naturally may have questions surrounding summer school and how they can best prepare to meet their goals.

Here, we explore a few simple ways that cyber school students can get properly set up for summer courses at a PA cyber school and get the most out of their experience.
Optimize Your Learning Area
We've talked about organizing your workspace plenty at 21CCCS, and for a good reason. The importance of an organized, optimized workspace cannot be overstated, as it is vital to the success of cyber school students — especially during summer school. If you are a cyber school student during the regular school year, you probably already have a workspace that is comfortable and sets you up to perform your best. During summer classes is a good time to think about your workspace and if it is as helpful as it could be. Are your materials easily accessible? Are your sitting arrangements working for you? Preferably you will set your workspace up so that you can hunker down for a while without needing to search for what you need during class time.
Check Your Tech
Students who are 21CCCS will already have a laptop that they can use for their summer courses. Before summer school gets fully into swing is the perfect time to check your technology to ensure that it is in proper working order. Screen, battery, or hard drive issues can really get in the way of success when your work is primarily done through a computer. If you are enrolling in 21CCCS classes for the summer and are not a student during the regular school year, it is even more crucial that you give your own laptop a test run to be sure it is ready to go. We recommend checking that you can open applications, get to your email, and get online without any problems.
Consider Your Schedule
At 21CCCS, summer classes are either synchronous or asynchronous. With synchronous online learning, students are required to be logged in and participating in class at a specific time of the day. This is in contrast to asynchronous courses, in which course work can be accessed at different hours. High School students taking original credit courses have an asynchronous format if they are taking a course for the first time and a synchronous format if they are taking Credit Recovery courses. Middle school students take their Course Recovery courses for remediation in a synchronous format. Students have access to 21CCS summer courses 24 hours a day, 7 days a week, with synchronous courses held Monday-Thursday from 9am to 1:30pm.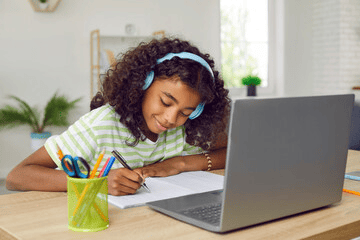 Regardless of the type of course you are taking in summer school, it is always important to think about your schedule and make it work best for you. Planning time to get done your schoolwork successfully is a huge help and will keep you on track as you learn. Another benefit of considering your schedule early on is that it can help you make time for other activities as well. Students who are able to balance their schoolwork with fun activities with their friends and loved ones often come back refreshed and more ready to learn than ever. In the past, we've discussed a few ways that cyber school students can keep their minds sharp during the summer and find that these methods can be excellent for summer school students as well!
Get Mentally Ready
We know that some students may not be happy with the idea of summer school, but overcoming that mental obstacle is a great way to get prepared and perform your best. What you'll find is that summer courses offer more than just the opportunity to get caught up or get ahead in school, they are an excellent way to get individualized attention, connect with our 21CCCS student and teacher communities, and learn strategies that will help you during the regular school year as well! With that in mind, it always is a good idea to get mentally prepared for your summer schedule. Having set goals in mind, knowing what areas you may want to practice more, and maintaining a positive attitude as you get ready for your courses can make the experience so much more valuable. Get in your zone and the rest will fall into place!
Don't Be Afraid to Ask for Help
A common misconception summer school students have is that summer courses mean less support. This is simply not true, and one of the most important things to remember about summer courses is that you are not on your own. Your teachers and 21CCCS community are here for you and are dedicated to offering the support that you need to have a successful summer course cycle.

Our courses are all taught by our PA-certified teachers who are available to answer questions and provide assistance. Teachers for Credit Recovery classes can be reached Monday-Thursday from 9am-1:30pm via email, phone, and our Virtual Office, while asynchronous students can connect with their teachers in the Virtual Office 9am-1:30pm Monday-Thursday. Summer courses are always easier when you can draw from your resources and get the help that you need throughout the session. Don't be afraid to ask for help if you are struggling with a lesson or need clarification on any of your coursework.
Preparing for Summer Courses Can be Simple
It is natural to feel a bit nervous when preparing for summer courses at a PA cyber school, but setting up can be a simple process when you know where to start. Parents looking for more information on our summer courses such as enrollment information, course catalog and requirements, course costs, and drop periods can check out our Summer School page. Middle and high school who will be attending classes with us this summer, we wish you all the best and are excited for another season with our 21CCCS community.