For lots of students, Cyber School is a great option because it differentiates your schedule, taking you away from the traditional 7:00 a.m. wake-up and 2:15 p.m. dismissal. Your schedule is what you make of it.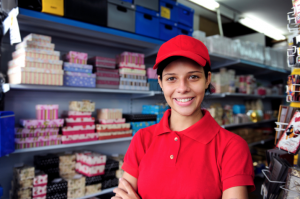 For some students, this change in schedule allows for the pursuit of part time work, which is a great way to gain experience and prepare for jobs to come in the future. Below you can find a list of some great job options for young people.
1.) Health Care Aid: Do you have a heart and passion for helping the elderly? You can easily work for a Retirement Home or Elderly Care center, and share your time with individuals who will appreciate your company! You can assist with simple tasks, such as visiting with residents, reading to them, or helping to facilitate guest visits when family members come to visit.
2.) Food Delivery: If you have a license, food delivery for a variety of restaurants may be the perfect fit for you! You get to use your new wheels, tour the neighborhood, meet people, and learn a bit about customer service. Careful though! Foods are not meant to be sampled on the ride over! (Just kidding.)
3.) Tutor: Are you great at a particular school subject? Are you a positive and encouraging person? Often times, the best person a younger student can learn from is an older student like you! Your perspective can really help students to understand difficult concepts and make them feel great. Talk to your teachers or guidance counselors about tutoring opportunities in your area.
4.) Animal Shelter Worker: Do you have a huge heart for anything furry, fuzzy, and loveable? Maybe you'd like to spend some time working for an animal shelter. They need lots of help playing with the animals, cleaning them, and making them feel at home until adoption day! This could be a great way to spend time after schoolwork is done!
5.) Retail Associate: There are plenty of jobs at the local retail shops in your area. Usually, these stores are in search of individuals to work with customers, stock inventory, clean, and more. Evening hours are usually available for anyone interested in part-time work. Walk right into your favorite spot, and ask if they are hiring. Even if they are not, consider asking to complete an application online.  That way, when an opening is available, your resume or application will already be in their database.
Good luck out there! Tell us how you make out. Also, if you pursue different kind of work than is listed here, reach out and tell us about it! We'd love to hear some other great ideas.