21CCCS held its "YouTube/Writing Contest" earlier in the school year. Here is a look at yet another winner, whose well-written essay eloquently showed how cyber school has made a difference in her life.  Great job, Abigail!
Cyber Schooled
            Public school was never a great time for me. It isn't great for a lot of students. Whether it's the learning systems, the amount of work, or the other students, it can be rough for many kids. Cyber school has given me the opportunity to not only improve my responsibility, but it has given me a chance to escape the harsh realities of high school, and it has provided me with a way to learn while also being happy. Cyber School works for me.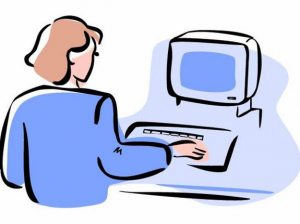 Middle school was a rough time for me. Through out those four years, I was teased and verbally bullied, along with the occasional physical bullying. Although I had a small group of friends, I still never really felt like I truly belonged anywhere. I felt like I was just a waste of space. I felt like I annoyed everyone, even if I made them laugh or smile. I'm not a big people person, so I always felt like I was saying the wrong things. Basically, I just felt like a loser.
Eventually, the end of eighth grade finally came, and that summer I decided it was time for a break. So I asked my mom about home schooling. I begged, and I begged, and I begged some more, until she finally broke. She suggested cyber schooling. She searched the web and looked at lots of Pennsylvania charter schools, and she came across one in particular that seemed wonderful to us both.
When I started this school, I never thought that it would be this amazing. I think of everyone here as family, including my learning coach, Miss Elder. The students always help each other out and support each other, and the teachers are honestly the coolest teachers ever. They push you to move forward, and they always make sure you pass your classes. They make sure that you reach for your goals so that when graduation day comes, you can move on in life to be the best that you can be. Cyber School has made a huge difference in my life, and although I always fall behind, my teachers and fellow classmates pick me up and stand me right back on my feet.
Cyber School works for me, because I have had the chance to escape the harsh realities and drama of public school. I have been able to focus on learning and getting an education without having to deal with bullies, which is obviously an amazing feeling. School is about getting an education so that we are able to have great lives when we become matured adults. It shouldn't be about worrying what to wear everyday, how to do your makeup, what kind of shoes you wear, and how to impress the "cool kids." Cyber School works for me because I'm learning in a safe and happy environment, and that's the way it should be.