With everything going digital and going online, it's no surprise that education is going that way as well. Schools have always worked along the cutting edge of today's technology, and today's students use that technology on a regular basis every day. With the Internet as integral as it is to how we live today, it makes sense to bring your child's education onto the web as well.
Unfortunately, some cyber charter schools can put far too much responsibility for a student's education in the hands of the parents, rendering the experience more akin to homeschooling than cyber schooling. At 21st Century Cyber Charter School, you can rest assured that our highly qualified educators will be the ones teaching your children.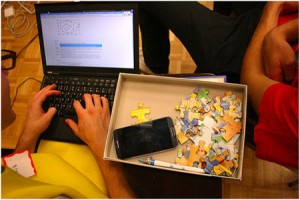 The Best of Both Worlds
Our educators are all trained and experienced teachers with a history of teaching online. They understand how to conduct classes through the Internet, but more importantly, they can use their teaching skills to give your child the educational experience that you should expect from 21st Century Cyber Charter School. This includes readings, activities, and other assignments that all correspond with their curriculum.
This doesn't mean that you will not be involved in your child's schooling; in fact, you will have more access to your child's school, their activities, and their education than you have ever had before. A school e-mail account and parent-level access to the learning management site will allow you to track your child's progress throughout the year and stay connected to their teachers in ways that are nearly impossible at a traditional school.
You will also have a liaison with the school in the form of your child's learning coach, a trained professional who will help you to monitor your child's grades, progress, and behavior, and whom you can discuss these things with to better help your child in their education. While you are not a teacher at 21CCCS, you are an important part of your child's development and education, and you can expect to be treated as such!
Another problem with working out of their home are the distractions that can occur when teachers are not in a professional setting. By working together out of the same building, 21CCCS teachers are encouraged to work hard and stay professional in your child's education, which is precisely the kind of approach you would expect from a traditional education as well. You shouldn't have to eschew the benefits of traditional education just to put your child on the cutting – and convenient! – edge of cyber schooling.
The Future of Education
Finally, you can expect your child to be trained using the latest educational principles at 21CCCS. The web is a sea of data; computers are already great at finding and collecting this data, but how do we make sense of it and use that data for a positive purpose? This is the great challenge of the 21st century, and one that the teachers of 21CCCS will prepare your child for. The ability to find data is common; the ability to process and make meaning out of that data is perhaps the key skill that employers are looking for today, and it is a skill that will serve them well in college.
You can be as involved as you like at the 21st Century Cyber Charter School, but you didn't sign up for homeschooling – you signed up to have professional educators help shape your child's mind. While you may play a large role in this process, you can rest assured that the skills and training our educators bring to the cyber classroom will do wonders for your child and their development into the ideal student of the 21st century.