School is starting this week! Everyone wants to know, "What are the best ways to get prepared for school?" Here are a few easy tips to help you get ready and succeed once things get started.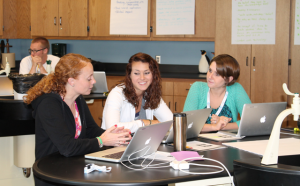 1.) Organize Your Workspace:
In cyber school, where you complete your schoolwork is not provided to you, nor is it swept and cleaned by the school's cleaning staff each day. Where you work is up to you. It's important to make this spot comfortable, but also a place without distractions.
2.) Check Your Laptop:
When you receive your laptop, be sure to use the checklist provided to you by our Tech Department. Be sure that you can open applications, check your email, and get online successfully. If anything is not functioning as it should, be sure to contact Tech. They are available in the Tech Virtual Office and over the phone at 484.875.5467.
3.) Clean/Organize Your Desktop:
Once you get your laptop running, there will be a lot of files and documents you'll want to save to the computer on a regular basis. You should not delete things in case a teacher needs it at a later time! Keeping things organized means starting off on the right foot. Create folders on your desktop for each of your courses and remember to drag documents into the folders as you work! Delete old emails and make room for the things to come!
4.) Get to Know Your Learning Coach:
Your teachers and learning coaches want to get to know you! They are here to help. They can offer assistance with academic support, lesson differentiation, communication with other subject teachers, and more. They will reach out to you throughout the year, but be sure to reach out to them whenever you need help with something! Follow us on Facebook, Twitter, Cyberschool Announcements, Moodle, and the Website Blog! We are always providing more information for you there.
5.) Reflect On the Past Year:
It is likely that you were in a class of some kind last year! Now it's time to get back into the academic mindset. What were some things that worked or didn't work last year? How can you improve this year? Talk with your teachers and learning coach to decide the best practices you can put into place this year to become the best student you can! We want to help!
Have you got ideas of your own to share with others? Email kely@21cccs.org, and share your preparation practices with us! We'll blast your responses on Facebook and Twitter!