High school junior here at 21CCCS, Lexi Burkholder, is a speed skater. She has been training and practicing for years. As a result, she has a pretty atypical lifestyle. When I asked her to describe a few things for me about her life, she was happy to create a blog post for us. Read below to learn more about the complex, dedicated life of Lexi!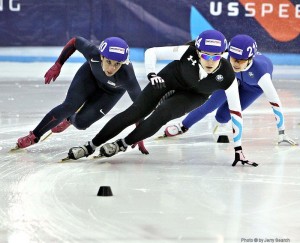 Hi! My name is Lexi Burkholder and I'm a short track speed skater. I also attend 21st Century Cyber Charter School. I've been skating since I was 10 and went to public school until 8th grade, which was when I won my second age group national championship. At that point, my parents finally relented and allowed me to enroll in cyber school so I could have more time to train.
I trained on my home ice rink in Pittsburgh during my freshman year of high school, and qualified for my first junior world team. I had previously only competed at domestic meets, mainly in the Midwest and Northeast. These areas are hotbeds for speed skating. So I raced in Courmayeur, Italy at the Junior World Championships and learned the hard way just how different (and difficult) international racing was.
I continued training in Pittsburgh through October of my sophomore year. Later that year, I decided to stop ignoring the pain that had been building for months in my left knee. After various doctor visits, MRIs, and lots of physical therapy, it was determined that I had partially torn my quadriceps tendon and I needed surgery to "patch things up." Believe me, going from training five hours per day to nil is pretty rough, and I think I jumped into things too quickly afterward! I was back on the ice that December, and raced a qualifier in late January for Junior Worlds (which was in Australia that year, and had been on my bucket list).
I didn't make it. Around that same time, I lost my coach and needed to find somewhere else to train and rehabilitate myself. Washington DC was close and had a great team, so I trained there for the rest of that season and throughout the summer.
I liked DC, but couldn't afford the training and living costs. At the beginning of my junior year (this year), I moved to Milwaukee, Wisconsin to try out an experimental program they were starting out. I could hardly do off-ice training at this point, since I was still recovering from my knee surgery. I really had to figure out how to listen to my body and learn when to push and when to stop. I also had to learn to be diligent enough to stretch more and to strengthen my smaller muscles.
I raced two senior qualifiers this year, finishing around 11th place in both. I qualified for the Junior World team in late January. Then, my schedule really started to pick up. I trained in Salt Lake City for all of February, then left for Warsaw, Poland from there to compete at the Junior World Championships. I placed 35th, which I'm really not proud of at all, but I was super thankful for all the hard lessons I learned to even get there. I know that those lessons will serve me in the future. I finished this season up with the American Cup Finals in Omaha, Nebraska, where after some remarkably dumb racing decisions, I still came in 5th.
Since Omaha, I've been enjoying my off-season in Pittsburgh and planning my move to Salt Lake City. I'll be driving cross-country mid-April and will be there probably until next March. I'm excited to train this summer since my knees are finally starting to cooperate. I'm also excited for next season because it's Olympic season and people actually take some interest in speed skating!
Lexi is currently an eleventh grade student here at 21CCCS. She enjoys running, reading, and spending time with friends. She hopes to pursue psychology as a major after graduating from 21CCCS.