It's that time of year again! School's out and many students will have plenty of time on their hands to READ! There is great material to consider out there. Whether your interests lie in fantasy, sci-fi, non-fiction, or romance, the selections are varied. Check out your local library or bookstore soon. Ask your teachers, librarians, or booksellers for reading suggestions, OR check out this list of suggestions below.
(Please note these suggestions are not reflective of the 21CCCS curriculum committee. These are merely for readers interested in finding new and interesting literature to help them think critically and explore through the reading process. Please be proactive, and consider learning more about these texts to note what content may be included before encouraging your child to read.)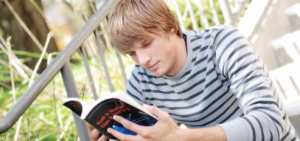 Great Summer Reads for Middle School Students:
1.) Stormbreaker by Anthony Horowitz. After the death of the uncle who had been his guardian, fourteen-year-old Alex Rider is coerced to continue his uncle's dangerous line of work. *series*
2.) Belle Prater's Boy by Ruth White. When Woodrow's mother suddenly disappears, he moves to his grandparents' home in a small Virginia town where he befriends his cousin. Together, they find the strength to face the terrible losses and fears in their lives.
3.) Ranger's Apprentice: The Ruins of Gorlan by John Flanagan. When fifteen-year-old Will is rejected by battle school, he becomes the reluctant apprentice to the mysterious Ranger Halt, and winds up protecting the kingdom from danger. *series*
4.) Out of My Mind by Sharon Draper. Melody is not like most people. She cannot walk or talk, but she has a photographic memory. She is smarter than most of the adults who try to diagnose her and smarter than her classmates in her integrated classroom—the very same classmates who dismiss her as mentally challenged. However, Melody refuses to be defined by Cerebral Palsy, and she's determined to let everyone know it.
5.) The Girl Who Invented Romance by Caroline B. Cooney. While waiting for her first big romance and observing the sometimes rocky love affairs of her parents and brother, sixteen-year-old Kelly develops a board game called Romance.
6.) If You Come Softly by Jacqueline Woodson. After meeting at their private school in New York, fifteen-year-old Jeremiah, who is black and whose parents are separated, and Ellie, who is white and whose mother has twice abandoned her, fall in love and then try to cope with peoples' reactions.
7.) The Looking Glass Wars by Frank Beddor. When she is cast out of Wonderland by her evil aunt Redd, young Alyss Heart finds herself living in Victorian Oxford as Alice Liddell and struggles to keep memories of her kingdom intact until she can return and claim her rightful throne.   *series* The current sequel is Seeing Redd.
8.) Heat by Mike Lupica. Pitching prodigy Michael Arroyo is on the run from social services after being banned from playing Little League baseball because rival coaches doubt he is only twelve years old and he has no parents to offer them proof.  Mrs. Ball says this is the best baseball book she's read in a long time.
9.) Throwing Like a Girl by Weezie Kerr Mackie. After moving from Chicago to Dallas in the spring of her sophomore year, fifteen-year-old Ella finds that joining the softball team at her private school not only helps her make friends, it also provides unexpected opportunities to learn and grow.
10.) The Million Dollar Putt by Dan Gutman. Assisted by his neighbor, Birdie, blind thirteen-year-old Ed "Bogie" Bogard will win one million dollars if he can sink a ten-foot putt in Hawaii's fifth annual Angus Killick Memorial Tournament.
Great Reads for High School Students:
1.) Twisted by Laurie Halse Anderson. Tyler Miller, a high school senior, tries to clean up his reputation, succeed in school, and deal with his demanding, explosive father and his alcoholic, distant mother. With gripping scenes and a rousing ending, Anderson authentically portrays Tyler's emotional instability as he contemplates darker and darker solutions to his situation.
2.) The Caddie Who Knew Ben Hogan by John Coyne. It's 1946, and Jack Handley is a 14-year-old caddy at a posh country club near Chicago. Add in Jack's entanglement in Matt's secret romance with the daughter of the club's rich and powerful president, and anecdotes of other legendary players (like Jimmy Demaret, Gene Sarazen and Lefty Stackhouse), and the results rank with James Dodson's nonfiction, and John Corrigan's PGA golf mysteries.
3.) Cold Mountain by Charles Frazier. Cold Mountain begins with the protagonist, a Confederate soldier named Inman, injured in battle during the Civil War. During his recovery in the hospital, he realizes that once he is well enough, he will be sent back to the front lines, a realization that causes him to make the arduous journey home to Cold Mountain.
4.) Catch 22 by Joseph Heller. Published in 1962, this grim satire attacks the foolishness and senselessness of war. Even though the subject matter is intensely serious, the story, mainly due to the Yossarian's brutal realism and caustic sarcasm, is often humorous with the intent of illuminating the horror and absurdity of the situation in which he is mired.
5.) The Woman Warrior by Maxine Hong Kingston. Kingston's poignant memoir tells the story of a Chinese American growing up in Stockton, California. As she grows up, Kingston begins to create her own stories to fill in the gaps between her mother's world and the reality in which she lives.
6.) Pigs in Heaven by Barbara Kingsolver. When a Cherokee tribal lawyer informs Taylor that she must relinquish her illegally adopted daughter, Taylor refuses to give up her daughter, and a life of flight and uncertainty ensues.
7.) Balzac and the Little Chinese Seamstress by Dai Sijie and Ina Rilke. The main characters, Luo and the narrator, are two male teenagers who are sent to a remote village in China to be re-educated under Mao's regime.
8.) Invisible Man by Ralph Ellison. A classic since its publication in 1952, Invisible Man recounts the story of a young, nameless, black man as he experiences the insidiousness of American intolerance, prejudice, and cultural blindness.
9.) Jane Eyre by Charlotte Bronte. Jane is orphaned at a young age and subjected to the cruelty of her new guardian, Aunt Reed. When Jane attends Lowood charity school, her situation does not improve. Readers admire Jane because in spite of her seemingly miserable lot, she transcends misery and betrayal to find love, happiness, and acceptance.
10.) Ethan Frome by Edith Wharton. A poor farmer, Ethan finds himself stuck in a miserable marriage to Zeenie, a sickly, tyrannical woman, until he falls in love with her visiting cousin, the vivacious Mattie Silver. A powerful tale of passion and loss—and the wretched consequences thereof—Ethan Frome is one of American literature's great tragic love stories.
List provided by:
Greenwich Public Schools Site
http://www.greenwichschools.org/page.cfm?p=4061
Emmaus High School Site
http://www.eastpenn.k12.pa.us/ehs/Academics/_Departments/English.html