21CCCS is proud to recognize the academic pursuits of alumni after they leave the comforts of high school behind. The world is a great big place with a wide range of opportunities. This week, we'd like to feature an alumni who graduated more recently. Since commencement, Emma has enrolled as a student at Muhlenberg College. Read below to learn what she had to say about the transition following graduation and what's to come.
Emma:
After graduating from 21CCCS, and the Theatre program that I concurrently attended during my senior year (Capital Area School for the Arts), I began my undergraduate studies at my first choice school: Muhlenberg College in Allentown, Pennsylvania. Its theatre department was ranked #1 in the country last year by the Princeton Review. I eagerly anticipated a great first semester. Muhlenberg definitely exceeded my expectations.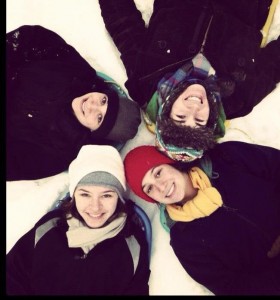 During my first weeks, in addition to making many fast friends, I interviewed and was hired for my first work-study position: Film editor for the On-Camera Acting class. A great surprise that followed in October was being promoted from second to first chair.
In October and November, I had the whirlwind experience of directing Why Cupid Came to Earl's Court for Muhlenberg's Red Door Play Festival. Throughout the rehearsal process, I was one of six student bloggers writing for the Theatre & Dance Department's new Tumblr account, documenting my observations as a first-time director.
Another fantastic opportunity I had this semester was to be a part of founding the Muhlenberg Music Association. I was hired to be Secretary on the Executive Board. This provided many fantastic and fun experiences towards the end of the semester, including going holiday caroling, doing a flash mob, and working the 2012 Lehigh Valley Music Awards event.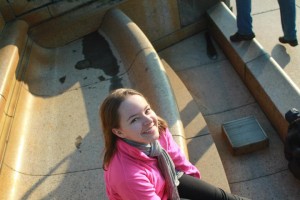 Thanks to 21CCCS, I was able to pursue my performing arts interests in high school and go into college with the experience and confidence necessary to tackle this semester's endeavors. And, although Muhlenberg has given me so much, I cherish still being connected to my 21CCCS family. I just returned from a weekend in Philadelphia with three other alumni, I also have plans to go to the Farm Show tomorrow with a current 21CCCS senior. I can definitively say that 21CCCS gave me the best friends I could ever imagine.
Emma is off to a great start and we are excited to see what's next. Congrats on your successes and best wishes for those to come!
If you are an alumni wishing to contribute to our blog, contact us today! We'd love to hear from you!