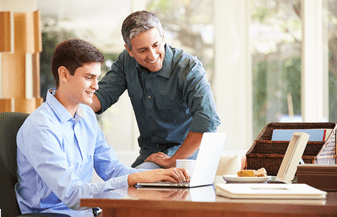 As a parent, you are your child's first and foremost teacher. You play a major role in your child's education, and your actions and behavior can really influence your child's academic success. Studies show students succeed at higher rates when their parents are involved in their education. With your help and support, your child can maximize their potential and perform well in online school. Here are a few ways you can help your child stay on track and accomplish their goals in a virtual charter school.
Create a Comfortable Learning Space
Since cyber students aren't in a traditional learning environment, such as a classroom, it's important to create a comfortable study space where they can eliminate all distractions and focus all of their attention on their studies. Work with your child to determine where they can focus and learn best. Your child may perform best at home or at the local library. If your child chooses to work at home, then set up a quiet and comfortable space that's specifically designed for learning. Here they can set up all of their equipment, including their computer and notebooks, and completely concentrate on their schoolwork.
Encourage Your Child to Get Help from Teachers
Cyber schooling vastly differs from learning in a typical classroom setting. While online students have teachers and learning coaches who are readily available to provide instruction and guidance, students need to reach out to them when they need help. At 21st Century Cyber Charter School (21CCCS), we have 56 hours of teacher availability per week (8 a.m. to 8 p.m. Monday-Thursday and 8 a.m. to 4 p.m. Friday). Typically, students who struggle in cyber schooling are those who either aren't putting in the six to eight hours of learning a day, or have questions but aren't reaching out to teachers for help. Encourage your child to reach out to their teachers. We have a Virtual Office, where students can sign in and get the help they need. There is always a certified teacher available in each subject.
Monitor Your Child's Success
At 21CCCS, parents have their own account where they can log in and see what their child has completed on any given day. Here you can also monitor your child's grades and progress. Utilize this portal to help your child stay on track. We offer a parent orientation to teach you how to use this portal, and teachers and learning coaches are also available to help you.
Celebrate Your Child's Accomplishments
Be enthusiastic about your child's education and offer praise for their accomplishments. Whether they improved their test score or Aced a class, celebrate your child's achievements to show that you're proud of them and to motivate them to keep up the good work.
Supporting your child can help put them on the path toward success. Contact us today for more advice on helping your child succeed in cyber schooling.