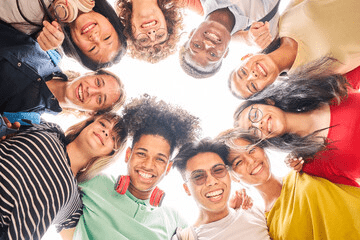 March is National Honor Society Awareness Month, and at 21st Century Cyber Charter School we are excited to have the opportunity to celebrate the organization as well as our students who have been honored with membership!

In recognition of National Honor Society Awareness Month, we wanted to keep our 21CCCS community updated not only on our recent NHS induction but the history of National Honor Society Awareness Month and the role it plays in honoring our scholars as well.
21CCCS Inducts NHS Scholars for the 2022-2023 School Year
This March, 21st Century Cyber Charter School has inducted 45 students into the National Honor and National Junior Honor Society for this academic year! Our induction ceremonies were held at both offices with our school also including a live stream so that students who could not attend in person could attend virtually.

Here at 21CCCS, we are incredibly proud of and excited for our NHS scholars. NHS represents some of the most important virtues of education, service, and leadership, and the future is truly in their hands.
More about NHS and the History of National Honor Society Awareness Month
While people are aware of the National Honor Society and its status as a prestigious organization that recognizes outstanding achieving high school students, many do not know just how long NHS has been at it.

Founded in 1921, the National Honor Society has stood out as the nation's premiere organization to recognize high school students who have shown excellence on the path of excellence 100 years. Over time, NHS has expanded to include chapters in all 50 states, DC, Puerto Rico and other US territories, and Canada.

Students accepted into the prestigious organization have maintained a cumulative GPA of at least a 3.0 on a 4.0 scale and have filled various requirements in terms of leadership and community roles. The Pillars of Membership for students who wish to join NHS are scholarship, service, leadership, and character, with only students who display a commitment to all four being eligible for NHS acceptance.

National Honor Society Awareness Month began with the mission of celebrating our NHS scholars, their successes, and the continuous commitment that they display to excellence in education and leadership settings. to academic excellence. Being inducted into NHS and maintaining membership over the course of one's high school career are huge accomplishments, and it is important that we recognize all that our scholars are doing as the next generation of leaders.
Celebrating National Honor Society Awareness Month
One of the best things about National Honor Society Awareness month is that there are many different ways to celebrate! Supporting students' academic pursuits, doing some academic research in the spirit of NHS Awareness Month, and joining in on the conversation online are just a few of the most common ways to do so.

21CCCS recognizes the accomplishments of our NHS scholars as they lend helping hands to our community and continue on their path. Congratulations on your achievements and have a great NHS Awareness Month!