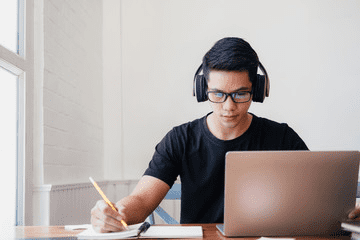 Believe it or not, we are quickly approaching the end of the year here at 21st Century Cyber Charter School! As we prepare for the end of the year and all it entails, it is important to bring up a few important events within the 21CCCS community. For seniors, graduation next month is a milestone event that we will all want to be prepared for, whereas online school enrollment and planning schedules will be crucial for any new or returning students. Here, we explore a few of our year-end processes as well as preparations for the 2022/2023 school year to ensure that students and their families are ready!
21CCCS Prepares for the Class of 2022 Graduation Ceremony
Every year, each graduate at 21CCCS is invited to participate in our graduation ceremony. After all, the event is an excellent opportunity for family, friends, staff, and faculty to celebrate the hard work of our diligent student community! This year, our graduation will take place on June 3rd for our West Chester ceremony and June 6th for Murrysville. Be on the lookout for more information on our students and faculty who will speak at the event. Our community at 21CCCS is incredibly proud of our graduating class and look forward to what the future will hold for such an impressive group of students!
Getting Ready for Online School Enrollment
For prospective students at 21CCCS, June will kick off our period of online school enrollment. Our team has streamlined the enrollment process to make each step simpler for students and their parents, and more info can be found here.
After enrollment, students can start to prepare for their life at 21CCCS by attending open houses. Each will give students the opportunity to learn more the many benefits of receiving an education at 21CCCS. We also provide a comprehensive orientation for incoming students ahead of classes starting for the new school year. The orientation is great for offering a refresher on our school's software, answering questions regarding schoolwork, and helping students stay on track with their learning goals. Remember that 21CCCS holds one-on-one information sessions (if requested) with an enrollment specialist who can give students and parents more information on how the school operates, curriculum insights, and more as well! We love taking a hands out approach to teaching our online school community and are more than happy to help students as they strive to reach their academic goals.
Setting Goals for the 2022/2023 School Year
Regardless of if you will be a new student here at 21CCCS, a returning student, or will be graduating, there are many ways that you can set goals for your next big step. New students will want to take advantage of every opportunity we have at our school to prepare for academic success while building connections with other students and their teachers. Both new and returning students will benefit from meetings with academic advisors and teachers who can keep them on track with their academic goals and ensure that their customizable curriculum fits their learning needs.
Graduating students can use all of the skills that they have amassed at 21CCCS to set the course for the next exciting stage in their lives. For some, this may mean starting a business to get entrepreneurial experience in their field of choice. For others, it may mean preparing to head off to college and start the next part of their learning journey. Remember that any plans that you have for the future will be streamlined with the many lessons that you have learned at your time at 21CCCS. Goal setting is a powerful tool and breaking down your larger goals into simpler tasks is a skill that will propel you to your personal version of success!