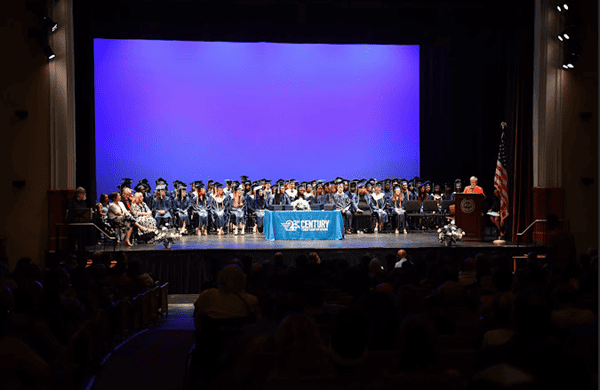 On June 5th and 7th, 21s Century Cyber Charter School celebrated the class of 2023 with ceremonies in Murrysville and Westchester.
The ceremonies celebrated 218 June graduates and 26 21CCCS students who graduated in January. There were also great speeches from our principal, Dr. Monica Frank and several graduating seniors.
It was very exciting to see both the Murrysville and West Chester communities come together to honor and celebrate the success of our graduating seniors. Each student has shown such incredible dedication during their time at 21CCCS, and these ceremonies represented the culmination of all of their hard work.
Graduation Ceremony Speeches
The graduation ceremony was kickstarted and closed by our principals, Dr. Nora Wheeler and Dr. Monica Frank. In her remarks, Dr. Frank encouraged the Class of 2023 to reflect on the goals that they have reached up to this point in their academic careers as well as all of the people who made such a journey possible. Dr. Frank also took the time to include the words of wisdom, advice, and encouragement that the Class of 2023 had been asked to share earlier in the school year. A few examples were "Stay strong and keep going.", "Take it one day at a time.", and "Do the best with what you have.".
The ceremonies also included speeches from several graduating 21CCCS students: Ava Lindsay, Ayishatu Hamid-Alhassan, Dalton Samuel, Jada Taylor, Jeremiah Shellhamer, Madison Doyle, Michael Iozzi, Sophia Dayan, and Sunshine Krill.
The student speeches included various words of wisdom, reflections on the challenges and triumphs of this academic year, and examples of experiences that allowed the audience to really understand each student's unique perspective. 21CCCS would like to thank all of our student speakers for sharing what they have learned, and we know that all are destined for great things!
A Note from the CEO of 21CCCS, Dr. Matthew Flannery
CEO of 21CCS, Dr. Matthew Flannery, wanted to share a few words with the Class of 2023, acknowledging the tenacity of our students as they overcame challenges, stepped up to the plate, and fulfilled all of their required coursework to graduate.
Dr. Matthew Flannery: "I would like to congratulate the class of 2023 on the successful completion of their high school careers. I am so proud of these graduates. Not only did they deal with the normal requirements of being a high school student, they also showed grit and determination as they faced many pandemic-related challenges over the past several years."
Congratulations to the Class of 2023!
The 21CCCS community truly cannot overstate how proud we are of the Class of 2023 and all that they were able to achieve within their high school careers. Despite challenges associated with spending a good portion of their high school experience in a pandemic, students were able to succeed in reaching important learning goals, building lifelong connections with each other and 21CCCS staff, and showing that they are more than capable of forging paths toward futures that make use of their many gifts.
From the entire 21CCCS community, we would like to say congratulations to the Class of 2023! We cannot wait to see what you are able to accomplish as you step into the adult world. With you all leading the way, we know that the future is in great hands!