Welcome to our "Alumni Spotlight" blog series! We will be featuring the amazing journeys of our alumni, after they leave the comforts of 21CCCS behind and enter the next chapters of their lives. Our alumni continue to amaze us! This month, read below to learn about Sarah, and see what she's been up to!
Sarah:
I am proud to say that I was a pure-bred home-schooler! I never rode a bus, walked the halls of a school, stashed things in a locker, or sat in a classroom until my 8 a.m. American History class the first year of college (I showed up 20 minutes early). Since graduating from 21CCCS in 2006 (I can't believe it has been 7 years) I earned my B.S. in Equine Studies from Wilson College (Class of '10) and did the unthinkable for a home-schooler: I moved away from home!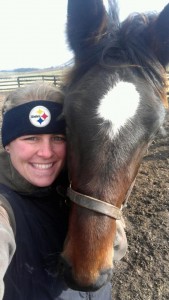 To say I was nervous to relocate 622.4 miles (yes, I just Googled that) is a little bit of an understatement. But, it was one of the best decisions I have ever made! I permanently moved to Lexington, Kentucky (the horse capital of the world) in July of 2011 and started my job at a standardbred breeding farm. I have helped bring 25 baby horses into the world, learned how to perform a uterine infusion, observed several equine surgeries, and assisted in the breeding of countless mares. These days I get to hang out with 54 amazing yearlings (8 of which I foaled out) who I feed, groom, and care for. Sometimes they can be a little rough on me. This is because their weights vary from 500-800lbs. But, working with them is my favorite part of the job. The fact that they are absolutely adorable doesn't hurt either!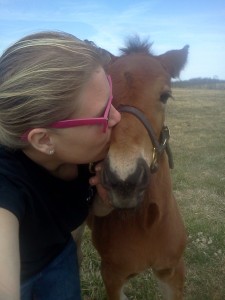 So, I guess the moral of my story is to never be afraid to move away from the familiar! I have learned a lot about being a grown-up since leaving home. I've met many interesting people and discovered amazing things about myself. New experiences lead to adventures and until you put yourself out there, you will never know what the world has in store! Best wishes and good luck to the future alumni classes!
Congrats to Sarah in her successes thus far! We are excited to see what lies ahead! Keep up the good work!