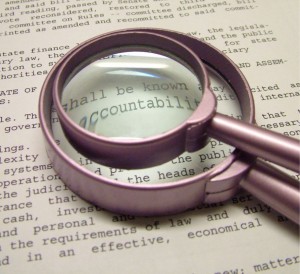 I've heard a lot of words floating around recently, to describe what's missing in cyber charter schools.
Transparency.
Accountability.
There are plenty of efforts across the legislative landscape that are aiming to attack cyber charter schools, claiming that they lack these two things. This assumption can be easily rectified. How does 21CCCS create transparency and accountability within its school? Read below to learn how we do it!
1.) Annual Report (Comprehensive Planning) 
This is submitted to the state each year to show that we are meeting annual goals and objectives identified by the state. The document is constructed with the help of staff and administration, to illustrate the ways in which we tackle things like: curriculum and instruction, assessment, safety and security, materials and resources, special education, future goals, facilities, staffing, and more.
2.) Teacher & Staff Evaluations
These are given twice a year. Our initial evaluation process was developed in-house. However, in 2014, we will utilize a tool developed and distributed by PDE. These evaluations are used to assess teacher performance, progress, and growth. It is also used as a tool to help determine merit-based salary increases.
3.) School Board & Meetings
Our board consists of Intermediate Unit Executive Directors, School Superintendents, and devoted parents. Each of these individuals are consulted as decisions are made within our school. In fact, board approval is required for budgetary, marketing, scheduling, and overall school value decision making. These contributors help to deliver the goals and objectives of our school's mission. We also abide by the "Sunshine Act," which means we publicly announce all board meetings, making them assessable by the public.
4.) iNACOL Teacher Training Program
Each of our beginner teachers are inducted into a two year training program. The program we use is based from Charlotte Danielson's work, which is nationally recognized as the expert in teacher effectiveness. Our teachers learn how to teach effectively in an online environment, and become acclimated to our web-based learning platforms.
5.) Curriculum Aligned to PA State Standards and the Common Core
Our curriculum is written by 21CCCS highly qualified, state certified teachers and instructional systems designers. Teams construct the best possible curriculum for our students, while aligning instruction to state standards as well as the Common Core.
6.) PDE State Mandated Assessments: PSSA and Keystone Exams
All of our students are required to take all state assessments given each year in the grades required. Our students are accountable for their learning, as they are held to the same standards as students in traditional bricks-and-mortar schools. Further, this information is used to calculate our AYP status, which contributes toward our school and LEA assessment scores.
7.) Regular Budgetary Approval
The system of approvals is the same as those found in public school districts. There is a transparent process, which is evaluated and voted on each year. Decisions are made to determine what the school should spend its dollars on, based on what is appropriate for a public institution.
8.) Strict Attendance/Enrollment Policy
Our students' progress, growth, and participation in lessons and assignments are vigilantly monitored by the school. This means that should a child not regularly contribute as a student of our school, he/she is immediately contacted. In extreme cases, students are removed from our school if they are unable to meet working expectations.
9.) Pennsylvania System of Cyber Charter Review (PASCCR) 
Each year, PDE visits charter schools to check on their operations, curricula, and overall planning for the future. In preparation of these visits, our school constructs a 500 page document to support each component of our school. We detail, and are thus held accountable for, our student learning, how student learning is measured, technological support, staffing information, and more.
10.) Highly Qualified Teachers
100% of our staff is highly qualified and state certified. While the state of Pennsylvania only requires 75% of a charter school's faculty to carry this distinction, we have maintained such a credential for several years. In addition, many of our teachers hold certifications in more than one content area.
If you like what you see, "Like" us on Facebook and "Follow" us on Twitter @21CyberSchool