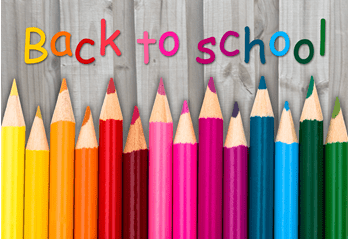 After a summer full of fun and sun, students across Pennsylvania are gearing up for Back to School. The new school year provides the perfect opportunity for online students to start fresh and set the stage for a successful year. Our Pennsylvania virtual charter school is sharing five Back to School tips for cyber students.
Get Organized
Start the school year off the right way by getting organized. Most cyber students work from home, so it's beneficial to create a designated learning space. Assigning a specific place for school allows students to eliminate distractions and fully concentrate on their studies. Choose a comfortable, quiet space that offers plenty of room for your notebooks, computer, and other supplies. Also get organized by creating physical and/or electronic folders for each course, and use a planner to keep all of your schoolwork and social activities in order.
Set Attainable Goals
Setting personal goals can increase your motivation and improve your performance. Perhaps you want to make Honor Roll, get a B on your math exam, or improve your time management skills. Set short-term and long-term goals that are attainable, specific, and measureable, and determine the steps you'll take to achieve them. For instance, if you want to improve your time management skills, you can make a list of each task you need to complete each day and assign them a specific time slot for when they'll be completed.
Along with setting goals, decide how you'll reward yourself for achieving them. Having an incentive will help you work harder toward accomplishing them. Talk to your parents about your goals and what they can do to help you reach them.
Establish a Routine
Many students choose a Pennsylvania virtual charter school because it offers greater flexibility than a traditional school. This flexibility puts students in charge of managing their time. Establishing a routine for your schoolwork can help you stay on track.
Get to Know Your Teachers                                       
At 21st Century Cyber Charter School, your teachers and learning coaches are here to help you succeed. Just because you're not in a traditional classroom setting doesn't mean your teachers and counselors aren't available to offer assistance and guidance. Get to know your teachers, principals, and other school staff and learn how you can reach them. 21CCCS also provides every student with a learning coach, who helps keep track of your progress and communicates with you at least on a bi-weekly basis to ensure you are receiving the instruction and guidance you need.
Check Your Tech
21CCCS students are supplied with all the technology they need for their schoolwork, including a Macbook, tablet, calculator, and more. When you receive these items, take the time to familiarize yourself with them, as well as any computer programs or software you may be using for your courses.  Our new student orientation will help you with this.